The whole adventure began one day before we left Sydney. We had been to a party the night before our flight was scheduled and since it was a good one, we only got about 90 minutes of sleep. Somehow managed to get on our plane by 8 o'clock on Sunday, the 16th of September. The flight wasn't anything special, but when I wanted to pay our car at Adelaide airport with my credit card, once more it didn't work - thank you Citibank. Adelaide is a boring city, and so we decided to leave it immediately.
| | |
| --- | --- |
| Our first stop was Hahndorf, an old German settlement some 50 km east of Adelaide. I reckon it rather looks like a mix of a Bavarian and one of these old towns we've all seen in several western movies. The best thing was definitely the bottle shop. We got a six pack of Hansa, a good German beer. It was even cheaper than some of the local beers. We also bought a VB esky and I got some new boots. | |
We wanted to spend the night in Mildura and so we had to leave Hahndorf .
The trip wasn't very special, exept for that old car we saw somewhere next to the road.
| | |
| --- | --- |
| | And after some shopping and an excessive BBQ we are so tired, that we just want to go to bed - 6 p.m.The tent we borrowed from Katrin must have been made for asian women because both of us were way too tall to sleep inside. The sleeping bag, which I also got form Katrin, didn´t even had a zipper. You can easily imagine, that this night wasn't the most comfortable one. - I decided to buy a new sleeping bag the next morning. |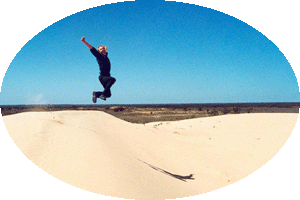 Today's stop was Mungo National Park, which contains a huge sand dune. The car we got form Hertz was a normal 2 WD, which is normally not permitted on gravel road. But they said, we can use access roads to national parks, even if they are not sealed. OK, this access road was 160 km long, but who cares.

Once we reached the park we immediately climbed this dune, walked around and took a lot of photos. Yes we really had a lot of fun. They had a 60 km sign posted self drive track, which we followed. The landscape is diverse. It changes form desert, to bush land, little forests and so on.